The date is 7 April which is also the birthday of the famous Asian movie star Jackie Chan. Having spent nearly five decades in the entertainment industry with more than a 100 films under his name, Jackie Chan is easily one of the most recognized celebrities of today. Here are 10 fascinating facts about the legend which you readers are sure to enjoy.
His Parents
His father was spy working for the Chinese government who married a drug smuggler named Lee-Lee Chan which he had arrested before. After the communist takeover, they fled to Hong Kong where Jackie Chan was born. They later left him in a boarding school and fled to Australia.
His childhood
Jackie Chan spent his early childhood in a Chinese Boarding School where he was given lessons in martial arts, drama, acrobatics and music. He took up acting at the young age of 8 in Hong Kong and eventually worked his way in becoming the legend he is today.
He nearly killed himself
Jackie Chan has a history of performing seemingly dangerous stunts but this one was a real killer (pun intended).While performing one of his stunts where he was expected to jump from a wall onto a tree branch, he missed and plummeted down onto the rock below. He fractured his skull and had a piece of bone lodged in his brain tissue but survived.
He hates Hollywood
Jackie Chan has stated that he never understood western humor not the west's fascination with car-chase type movie sequences. None-the-less, being the perfectionist that he is, he has always managed to perform his best in any western movie he played a role in.
Guinness World Record holder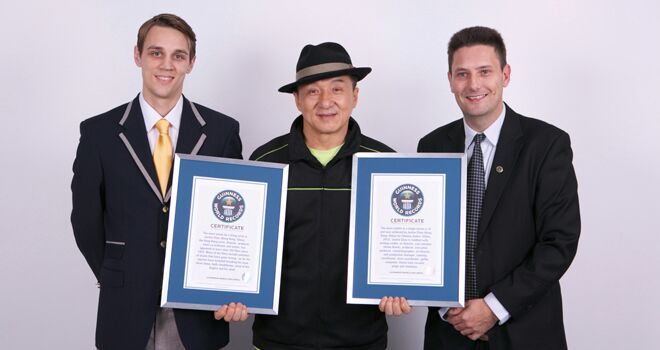 He currently holds a total of 3 Guinness World: one for performing the mort stunts as a stuntman, one for  taking as many as 15 different works for his film 'Zodiac and lastly  for the highest number of takes for a scene.
His most terrifying stunt
While he has had his share of terrifying moments, noting comes close to the stunt where he had to slide down a  21 storied building facing the ground . It took him nearly 2 weeks to muster the courage for the stunt.  Why is Jackie Chan so cool? Because of the blood freezing stunts he does so often! Yeah it was a cold joke.
His is also a great singer
Acting isn't the only thing he is known for in East Asia. He is an accomplished Chinese engineer as well, having over 20 albums under his name.
He's a total badass
Virtually every part of his body has suffered injury in one form or another. But even when injured, he is known for insisting on completing his stunt. During the 80s and 90s ,he carried multiple weapons and even a grenade to protect his crew. Did we mention that he once broke three concrete stacks with his hand while holding an egg which remained intact?
Multilingual
Jackie Chan speaks a total of 7 languages; he is well versed in Cantonese, Mandarin, English, German, Korean, Japanese and Thai and American Sign Language.
Have friends who are a real fan of Jackie Chan? Share this article with them!